اگر در جستجوی "مینیاتور" به مجله کیانوش آمده اید، پیشنهاد می کنم که بر روی این لینک کلیک کنید.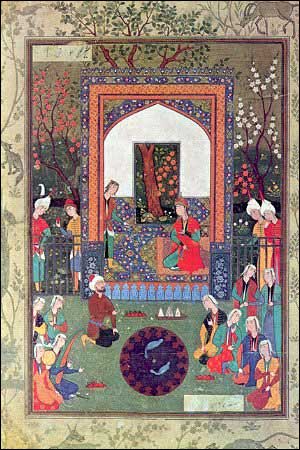 Iran Chamber Society is one of the most professional and informative webpages about Iranian (Persian) Art and culture that I have ever visited:
In the absence of a well-documented, comprehensive and permanent source on Iran/Persia that can accommodate many viewers' needs and wishes in providing information on all aspects of Iranian/Persian history and culture, and in compliance with the needs of those who are concerned with Iran/Persia and its issues, "Iran Chamber Society" (Andjoman-e Otagh-e Iran) was founded in 2001. "Iran chamber Society" is nonprofit without any political, religious and otherwise affiliations with any governmental institutions.
"Iran Chamber Society" is the most well organized and comprehensive online source of information on Iranian/Persian history, art and culture without any membership requirement to access the data. We believe "Iran Chamber Society" is a free source of information and must stay away from all commercial concerns. Therefore we will not accept, display, or publish any advertisement in order to enable us to focus on the content and the quality of information provided and to play an educational role. "Iran Chamber Society" mission is not to play a role of "Current Affair Site" as we know plenty of them are available on the net; but our main concern and attention goes to other permanent Iranian issues than more temporary ones. We'll keep updating our site but it can be invisible to who wish to see up-to-date issues. Iran Chamber Society is a "Cultural Center", not a "News and Current Affair" publishing headquarter.
One of its greatest features is its refrainment of being highly involved with the Persian Empire.
As "Iran Chamber Society" cares a great deal about the ease of use, prompt accessibility and quality of information, it will not be accepting entries from companies, institutions, organizations and sites promoting discrimination, racism and hatred. "Iran Chamber Society" will take all steps necessary to disassociate itself from all sites and entries connected to those that violate its professed goals.